International Society for Philosophers: Books
Our List
All books featured here are copyright of the original author(s) and not to be copied, shared or transmitted in any form without permisison.
Download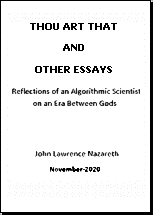 Thou Art That and Other Essays by John Lawrence Nazareth
Reflections of an Algorithmic Scientist on an Era Between Gods
This book lies at the intersection of religion, science, and philosophy. Here I have sought to build a bridge between the "perennial philosophy" of the past, which has inspired and provides the foundation for the world's major religions, and the "natural philosophy of organism" of four great philosopher-scientists of the 19th and early 20th centuries — Gustav Theodor Fechner, William James, Henri Bergson, and Alfred North Whitehead.
Sanja Ivic writes: "Your book represents a significant contribution to the field of philosophy. I find your investigation of the realm of the symbolic particularly important. Your approach is authentic, interdisciplinary and refreshing."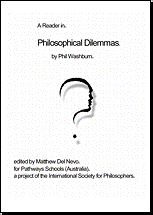 Download Dilemmas in Social Philosophy
Download Instructors Manual
Dilemmas in Social Philosophy by Phil Washburn, edited by Matthew Del Nevo for Pathways Schools Australia, a project of the International Society for Philosophers.
The reader consists of two documents: a student text, together with an instructor's manual.
CONTENTS: Is Society based on a contract? Is liberty the highest social value? Is equality the highest social value? Is capitalism just? Should we establish a world government? Is ethnicity essential to identity? Connections: individualist or relationist?
Download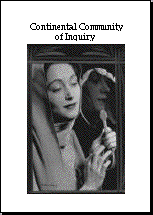 Continental Community of Inquiry
Continental Community of Inquiry is a collection of texts selected — and in some cases translated — by Matthew del Nevo.
The introductory section explains the community of inquiry approach to continental philosophy and gives advice to students and teachers. The texts are suitable for students of any age, for beginners or more experienced students.
The collection includes a Preface by Matthew Lipman, who has pioneered the idea of a community of inquiry and philosophy for children.
Download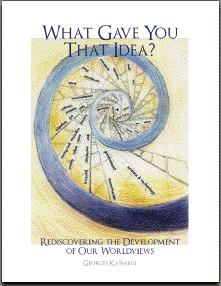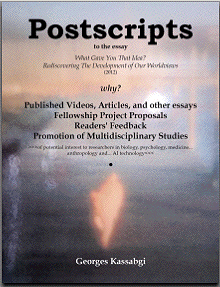 What Gave You That Idea? by Georges Kassabgi
Download Postscripts by Georges Kassabgi
Sanja Ivic writes: "In his book What Gave you that Idea? the author explores the origins of different philosophical worldviews. He relies on various philosophical perspectives in order to rethink the binary oppositions such as: material/ non-material, natural/ artificial, real/ unreal and so forth.
"In his essay Postscripts, the author attempts to give a philosophical response to various global challenges. This book aims at exploring the nature of human conflict. The author employs different methods and techniques. This is a postmodern philosophical essay that is characterized by the use of intertextuality. The author sheds a new light on various topics in political philosophy relying on quotations, references and accessible texts."